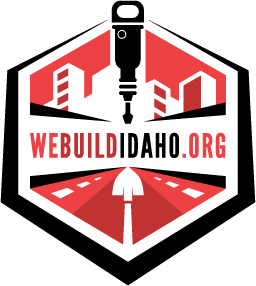 March 26, 2019
When last we updated you, the Idaho AGC was working in conjunction with the Department of Labor and Idaho post-secondary institutions to launch the Career Launcher program using workforce development grant funds. The program was designed to introduce its enrollees to a variety of career paths and skills available in the construction industry, included OSHA 10 certification, and would culminate in a hiring fair between program graduates and construction firms.
The first course launched at the College of Southern Idaho in Twin Falls on February 25th. Over the next four weeks, the participants built a storage shed using skills they learned in class, including basic blueprint reading, OSHA 10 safety standards, framing, concrete, roofing, and siding. "As a tradesman who learned a craft early in my career, the opportunity to provide others just entering this industry with insight in perspective is very rewarding," said Andrew DiPietro of Petersen Brothers Construction, who taught the course, "Watching people put their minds and hands to work and discover new skills is exciting and Petersen Brothers Construction is proud to say we had part of this." Upon completion of the course, four local contractors and thirteen graduates of the Career Launcher course attended the hiring fair on March 21, 2019.
Jennifer Alcaraz, representing Idaho Materials & Construction's Human Resources department reported that she "…felt the Twin Falls hiring fair was a great opportunity for Idaho Materials & Construction. Attending a hiring event with potential candidates who are only interested in the construction field is a fresh breath of air, and we can't wait for the next one."
With the first Career Launcher session successfully completed, the program's attention has shifted to the second session, which has 18 students enrolled and is currently taking place at the College of Western Idaho in the Treasure Valley.
"It is our partnerships with the Colleges, the Department of Labor, and local contractors that made the first course a success," Idaho AGC's Education & Training Director Kristy Watson shared. "The involvement we have seen by member contractors has been phenomenal." Watson is referencing the participation opportunities contractors have both in attending the culminating hiring fair and in offering assistance with donated materials and course demonstrations on various content areas.
Of course, there's still work to be done! The second course's hiring fair will be held on April 5, 2019 and still has openings for contractors interested in attending (Registration and information HERE). As the program moves forward with more classes, volunteers are always welcome and may contact the Idaho AGC to inquire further at 208.344.2531.